The United Kingdom (UK) was once Europe's largest turmeric (Curcuma longa) importer. But, Brexit has caused a fall in imports from and exports to the European Union (EU). As a result, since 2022, the UK is the third-largest, and the Netherlands is the largest importer of turmeric in Europe.
Turmeric in the United Kingdom
Historically, the UK was Europe's most significant importer of turmeric. Next to import for its own consumption, the UK exported turmeric to other EU countries. 
On 31 December 2020, the transition period after Brexit ended. And, with that, free trade between the UK and the EU ended, too. In 2021, new trade barriers affected exports from the UK to the EU. The UK's turmeric imports fell from more than 10,000 tonnes in 2020 to 7,000 in 2021 and 4,000 in 2022.
Reduced access to the EU market
UK exports also began to decline in 2021. Turmeric exports reached 909 tonnes in 2020 and fell to 554 in 2021. In 2022, UK exports of turmeric continued to fall to 347 tonnes. The Netherlands, Ireland, France, and Germany were the UK's main export destinations, and all are EU members.
As a result of the declining exports, companies in the UK scaled down their turmeric imports. The fall in UK-EU trade following Brexit has been well-documented. New border formalities and controls have led to longer delivery times and trade barriers, particularly for smaller companies. A December 2022 report by the British Chamber of Commerce highlighted that the UK-EU trade deal was still not yielding positive results for most businesses.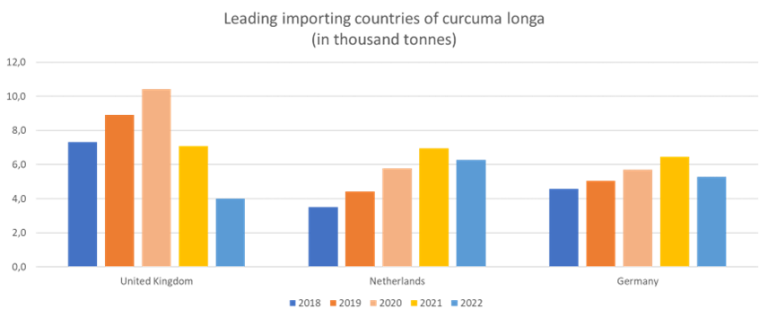 The current leading importer
In 2022, the Netherlands became the new leading importer in Europe, with over 6,000 tonnes of turmeric and a 24% market share. Because this country already is a spice trader in Europe, the Netherlands proved to be a suitable alternative to the UK. Even though the COVID-19 pandemic interfered with the trade activities of some Dutch exporters, the country is partially taking over the UK's trading role in turmeric. 
63% of the Dutch turmeric imports are re-exported. Exports reached almost 4,000 tonnes in 2022. The Netherlands' main export destinations are all across Europe, for example:
Germany: 1,238 tonnes in 2022 and a market share of 31%;

France: 425 tonnes;

Spain: 285 tonnes; and 

Belgium: 224 tonnes.
The Netherlands seems open to new opportunities and new supplying countries, as several countries export small quantities of turmeric to this market. For example, Dutch imports from Thailand tripled to 172 tonnes in 2022, and Costa Rica, a new supplier since 2017, supplied 145 tonnes.
Opportunities in the European market
Changes in the European market may present opportunities for turmeric exporters. Importers in the Netherlands may be open to new suppliers to meet their growing demand. So, exporters should strengthen their sales and promotional efforts to profit from the situation and find new partners.
Source:CBI